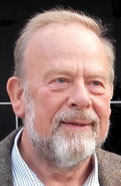 Alan is Founder and Director of Clark & Fischer-Clark GmbH.

For more than 20 years he has been extensively involved with the design, marketing and sales activities of high technology companies requiring a clear understanding of the associated technologies and physics involved. His work required the specification, design and supply of critical optical modules as essential components of high technology complex systems. His experience includes products in the fields of laser technology, scanning devices for writing-, engraving- and PC chip- production, nuclear (radiation resistant) and hostile environment viewing, entertainment & media presentation, miniature and zoom viewing among many other. Alan is a very experienced optical designer of industrial optical systems.

Alan managed and carried out various market studies for companies with high technology products resulting in the identification of target technical competitive positions and development of market strategies. He supported the preparation of technical specifications for the products associated with their business plans, including price targets, as well as helping to identify design costs and prepare project plans. His technology experience has also been utilised in acquisition activity and he has extensive practical experience of the production methods used in the manufacture of industrial optics.
 
Alan has a track record of launching and running highly profitable sales agencies on behalf of a number of clients in Britain and Germany producing high tech products.
 
From October 2008 Alan supported the project at Clark & Fischer-Clark GmbH setting up the Sales Agency for a German Eco-Timber House Manufacturer in the United Kingdom and Ireland.

Prior to Clark & Fischer-Clark GmbH, he was the founder and managing director of MSE Marketing Services for Export GmbH (Bonn, Germany), following on from his position as Marketing Director of Dallmeyer Ltd (London), a well-known industrial optics company founded in 1860.

He holds a Bachelor of Science degree in Applied Physics (City University, London), a Master of Science Degree in Applied Optics (Imperial College of Science, London University) and DIC (Diploma of the Imperial College of Science).
Alan is author or various book, amongst them "Physics in 5 Dimensions - Bye, bye Big Bang" (More information here).
Keywords: Marketing, Sales, Physics, Sales Agency, Market Studies, Market Strategies, Design, Optical Modules, Industrial Optics, High Tech System, High Value Products,  Acquisition Activity,  Dallmeyer Ltd (London), Imperial College of Science (London), "Physics in 5 Dimensions - Bye, Bye Big Bang"